Al Forsan International Sports Resort

LAST CHANCE! Are you a stealth fighter? Totally extreme, full on paintball action with state-of-the-art sound & light effects & 200 shots to take on all comers! Includes day pass to Al Forsan

Deal ended at

23:59:00 on 10/12/2012
Fine print
Buy unlimited vouchers for yourself or as gifts

Extreme paintball, 200 rounds 75 AED

Includes free day pass to Al Forsan International Sports Resort

Voucher is valid until 20th December 2012

Must be at least 10+ years

Induction and safety training for all

All safety equipment provided

Advanced booking required: minimum 48 hours

Minimum notice for cancellations 24 hours

Voucher is forfeited on late cancellation or no show

Not valid in conjunction with any other offer or promotion

This offer is non-refundable for cash or credit in part or full

Deal is subject to availability
Reservations & bookings:

T: 02 656 5610 / 02 556 8555 E: info@alforsan.com W: www.alforsan.com
Open 7 days: Weekend: 8:00 am to 11:00 pm, Weekdays: 8:00 am to 10:00 pm
Location: Behind Abu Dhabi Golf Club, Khalifa City. 10 mins from Abu Dhabi Airport. Intersection of 12th and 15th Streets

YallaBanana conditions
Vouchers not available for resale

Deal offer subject to availability

Read Universal Fine Print
How to redeem your voucher
Vouchers are emailed when the deal 'tips' i.e. reaches the minimum number of buyers.

You can also print it from your members account. Just login.

Vouchers can be used immediately unless otherwise specified.

Present your voucher to the merchant when you wish to make the transaction.

Don't forget to use the voucher before it expires. That would be sad.
Help! I haven't received my voucher
Please check your email junk/spam folder.

Add team@yallabanana.com to your safe senders list.

Alternatively, login to your member's account using the login link and print it.

Still no luck? Relax.Contact us by emailing team@yallabanana.com
Check out our FAQ's (frequently asked questions)
More
Less
Want to say something about this deal?
The Details
Blast away with 200 paintballs
Choose from 2 themed zones in climate controlled domes & tournament field
Wild West Zone - includes interactive saloon, jailhouse, bank & 'High Noon Challenge'...10 Paces
WW2 Pacific Island Zone - war torn village, grass huts, watch towers & fox holes
Tournament Field - fully floodlit, blast away long into the night
Inclusive of mask, chest protector, suit & marker
Can purchase additional paintballs
Full safety briefing supervised by professionals
Includes free day pass worth 55 AED to Al Forsan International Sports Resort
Free parking available
For more thrills, check out The Al Forsan Tab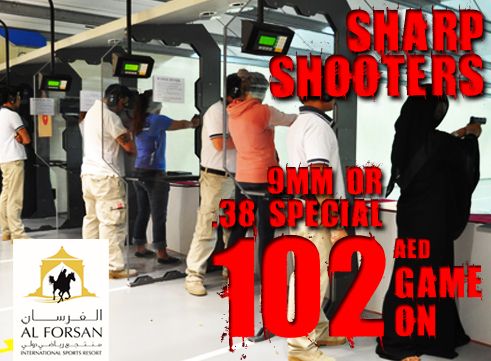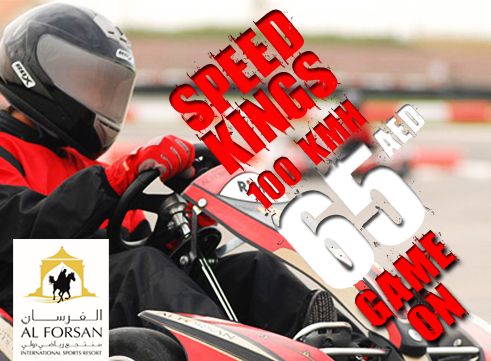 About Al Forsan International Sports Resort
On the track, on the water or on horseback – however you like your fun, you'll experience adrenaline pumping thrills and world class facilities at Al Forsan International Sports Resort. With activities to suit everyone from beginners to professionals, highly skilled staff, talented chefs and fine dining, you're guarantedd to have a great time at Al Forsan.
Watch the video
About
Al Forsan International Sports Resort
Click here for more details.
Al Forsan International Sports
Al Forsan International Sports Resort