Hili Fun City

2 for 1 tickets to Hili Fun City, Al Ain: AED 59. 30+ attractions, rides for kids, teens and families. Plus come and see the amazing African Acrobats performing free from 17th Feb to 15th March
Fine print
Partner conditions
Voucher is valid until 13th August 2014

Wednesdays are reserved for ladies only

Printed YallaBanana Voucher and Valid ID must be presented

Buy unlimited vouchers for yourself or as gifts

Not valid in conjunction with any other offer or promotion
YallaBanana conditions
Vouchers not available for resale

Deal offer subject to availability

Refunds will only be considered if YallaBanana or the Merchant is at fault

Your voucher is valid up to the expiration date stated on the deal and voucher. If there are specific needs as to the dates required (visiting family, or other restrictions) it is the responsibility of the customer to check the availability of those dates directly with the merchant BEFORE purchasing the voucher. No refunds will be given due to preferred dates not being available when alternative dates are available before the voucher expiry.


How to redeem your voucher
Vouchers are emailed a few minitues after deal is purchased

You can also print it from your members account, just login and look under My Purchases/Gifts.

Vouchers can be used immediately unless otherwise specified.

Present your voucher to the merchant when you wish to make the transaction.

Don't forget to use the voucher before it expires.


Help! I haven't received my voucher
Please check your email junk/spam folder.

Alternatively, login to your member's account using the login link and print it.

Check out our

FAQ's

(frequently asked questions)
More
Less
Hi Iffidxb, we do apologies for any inconvenience, although you should be able to view you vouchers on your YB account. You can view it from your members account, just login and look under My Purchases/Gift. Have a great Day!
The Details
2 for 1 tickets to Hili Fun City, Al Ain. 59 AED. 30+ attractions. Rides for kids, teens & families. "African Acrobats" display group performing absolutely free from 17th February to 15th March, 4 times a day


Hili Fun City, Where The Fun Never Stops in Al Ain!
Between 17th February and 15th March, the amazing "African Acrobats" display team will be performing in the park for free. 4 shows per day: 5pm, 6pm, 7pm and 8pm

Unlimited access to more than 30 attractions for all ages, including 3D action cinema

New live shows Wednesday to Friday featuring hip hop dancers, gulf singers, clown, magician and more

BBQ & picnic areas available in beautifully landscaped gardens

Other activities available for an additional fee ( Crazy Marina, Sinbad Cruise & Cycle Shop)

New colourful kids playgrounds

Restaurants, gift shops and skill games are also available

Hili Fun City keeps family traditions (Wednesdays are for ladies only)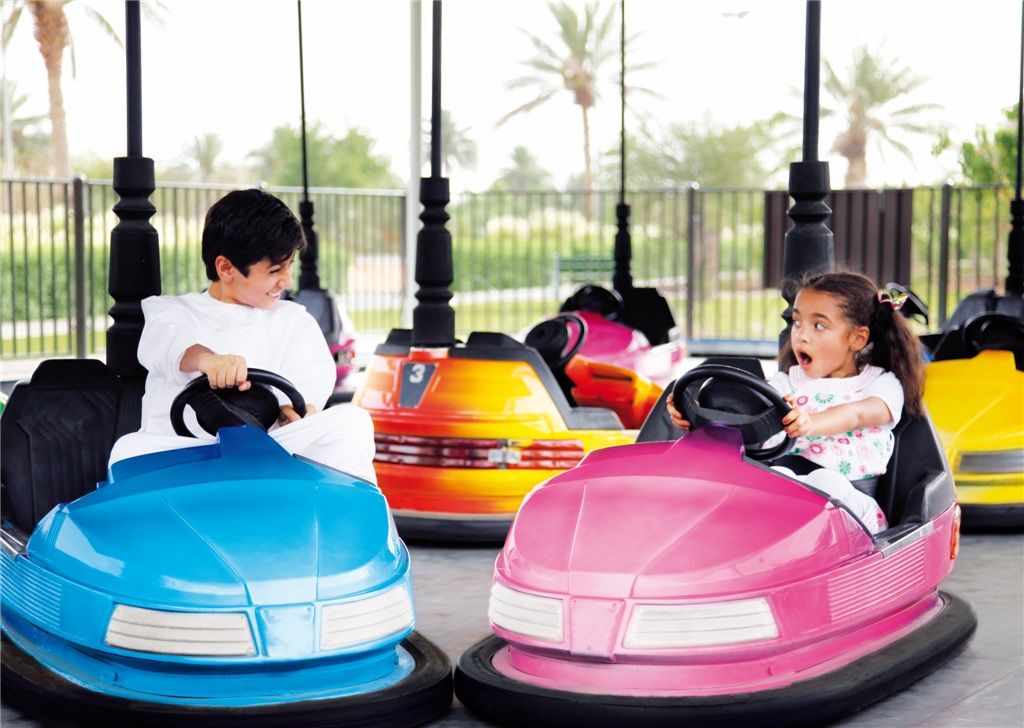 Opening Hours (October – May):
Monday – Thursday : 04:00 pm till 10:00 pm
Friday & Saturday : 12:00 pm till 10:00 pm
Closed on Sundays

Opening Hours (June – September):
Monday – Thursday : 05:00 pm till 10:00 pm
Friday & Saturday : 04:00 pm till 10:00 pm
Closed on Sundays and during the month of Ramadan

Location: Hili Fun City, Al Ain, Abu Dhabi, P.O. Box 1993
Enquiries: T: 03 784 4505 E: info@hilifuncity.ae W: www.hilifuncity.ae
Want to stay overnight in Al Ain? Take advantage of this other great YALLABANANA offer at the Mercure Hotel in Al Ain:
1 night stay for two adults and up to 2 kids including breakfast for just
AED 404
Click here for more details.
Hili Fun City
Address:
Hili Fun City, Al Ain,
P.O. Box 1993
Abu Dhabi